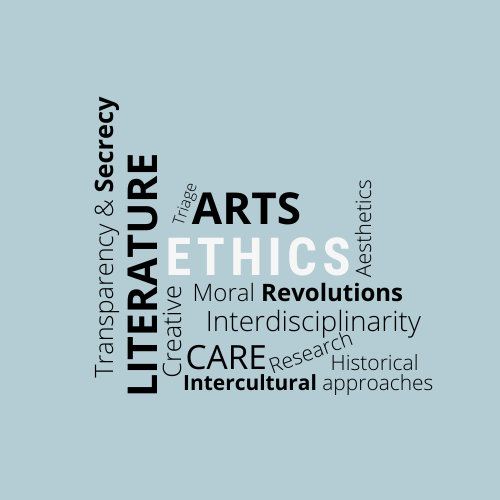 The Lethica University Diploma is a unique degree in France, whose originality is based on the proposal of an interdisciplinary training in ethics, literature and arts. The objective of this diploma, which is linked to several Masters offered in different Faculties of the University of Strasbourg (Master in Ethics, Master in European Literary Cultures, Master in Multilingualism and Interculturality, Master in General and Comparative French Literature), is to enable students to advise on ethical decision-making by mobilising artistic and literary resources.
Institutional framework of the project and themes
The creation of the Lethica University Diploma is part of the strategy for the development of Interdisciplinary Thematic Institutes (ITI) initiated by the University of Strasbourg, within the framework of the initiative of excellence "surpassing borders" co-sponsored by Unistra, the CNRS and Inserm. The challenge of the ITIs is to bring together players with complementary disciplinary skills to help solve major scientific and societal challenges. The Lethica ITI has thus identified four main themes, which seem decisive for understanding today's world: moral revolutions, sorting, the opposition between transparency and secrecy, and the need to "make a case". The skills developed in the framework of the Lethica University Diploma will therefore primarily target professional situations that involve
       - Operations of classification, selection, prioritisation or neglect (triage);
       - Changes in sensitivity, shifts in opinion and ideological cleavages (moral revolutions);
       - The choice to make public or to keep hidden certain information (transparency and secrecy);
       - The concern for particular cases, the implementation of care (making cases);
By exposing students to situations that pose ethical problems (through the analysis of literary texts and works of art), the training offered within the Lethica University Diploma will improve their skills in analysing these situations, adding an ethical approach to their overall reflection, their decision-making or their positioning in everyday situations (whether professional or personal).
Public and opportunities

There are many sectors today where ethical competence may be valuable or necessary: training, research, mediation, decision making (in politics, but also in companies and public institutions), social workers, care workers, jobs in the medico-social sector and associations, etc. The Lethica University Diploma will enable the professionalisation of students and doctoral candidates in the humanities field by adding value to their disciplinary training, which will be likely to improve their integration into the labour market. It may also be of interest to science and medical students who wish to add a humanistic component to their practice.
For students in initial training, the University Diploma will not replace existing disciplinary training: it will be added to them to allow students and doctoral students to validate an opening or partial specialisation on ethical issues, without having to commit to a multi-year degree (master's, doctorate). It will also be accessible to professionals, via the continuing education offer.
Indicative fees :
For a student in initial training: basic fee of 243€ (159€ for students already enrolled in a master's or doctoral program) and specific fee of 250€.
The University Diploma will be open to "continuing education" from septembre 2023.
Organisation of the LETHICA University Diploma
The Lethica University Diploma offers students a total of 240 hours of training, including 36 hours of internship (two possible options: internship in a research team or internship off-site).
The training will be made up of equal parts of disciplinary and pooled teaching, borrowed from the training offer of the Masters associated with the Diploma, and of specific Lethica teaching.
The shared seminars may be taken in the Faculty of Arts, the Faculty of Letters, the Faculty of Languages or the Faculty of Social Sciences: their list, which may vary from year to year, is available online.
The courses specific to Lethica, created for students enrolled in the diploma, will include an initiation to research module (participation in scientific events, symposiums and doctoral schools, 36 hours), an interdisciplinary seminar (24 hours), as well as an innovative training program, the Lethica workshop (30 hours), which will be offered in two courses of your choice:
1.     The "Laboratory of Cases of Conscience" course will introduce them to scenario planning techniques, to help them make ethical decisions based on their knowledge of literary texts and works of art, on a topical subject.
2.    The "Bibliotherapy" course will offer an overview of existing bibliotherapeutic practices (informative, affective, hermeneutic, poetry therapy, etc.) and will provide an introduction to the practice of bibliotherapy based on case studies. This course currently represents the only training in bibliotherapy offered in a university setting in France.
The DU students will also benefit from a personalized follow-up by the person in charge of the training (Personalized Project Approach module), in order to build the most adapted course to their needs and aspirations. An indicative detailed program can be consulted here  (it is however likely to evolve slightly).

The Lethica University Diploma is part of both a research-training approach (training through research) and a research-creation approach: its validation will thus involve the writing of an article likely to be included in the LETHICTIONARY created by ITI Lethica as well as the proposal of a scenario aiming to respond to an ethical problem by mobilising artistic and literary resources, or a commented bibliotherapeutic repertory, according to the chosen course.
For students enrolled in one of the five Masters associated with the Diploma, the pooled seminars allow a double validation : both in the framework of the University Diploma and in the framework of the Master.
For doctoral students, certain specific Lethica courses may also be validated as part of their compulsory doctoral training, in agreement with the European Doctoral College.
In order to allow a more flexible organisation according to the needs of each student, the Lethica University Diploma can be validated in one or two years. The first class will consist of a maximum of fifteen students (starting September 2022).
Download the pattern of the diploma and the MECC et rules